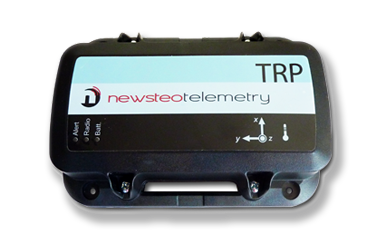 Shock and temperature with GPS localisation
Shock data logger with temperature and GPS localisation – Newsteo Tracker TRP55
The Newsteo Tracker TRP55 is a shock data logger that measures, records and locates shocks or temperature change during the transportation of goods.
Temperature measurement at regular intervals, with time stamp and GPS location
Measures instantaneous speed and inclination, with time stamp and GPS location
In case of shock, measures intensity of shock on 3 axis from -16g to + 16g with time stamp and GPS location
TRP55 : GPS shock recorder
Functionning of the shock data logger

After having configured and activated the Newsteo Tracker TRP55, simply fix it in the container, truck, box… before it leaves. The Newsteo TRP55 Data Logger continuously measures various parameters and stores corresponding measures. Upon arrival, the measures are wirelessly downloaded on PC, through the package of the good: no need of opening the package.
The journey made by the goods are materialized on a map, on the software installed on the PC.
A PDF report is created and allows you to view all the measures taken by the Tracker TRP55.
Who uses the Newsteo shock data logger?
Fragile freight carriers: inform your customers of the transport conditions of their merchandise

Owners of the goods: the Newsteo Tracker is a shock snitch which will inform you of the conditions of storage and transport of your goods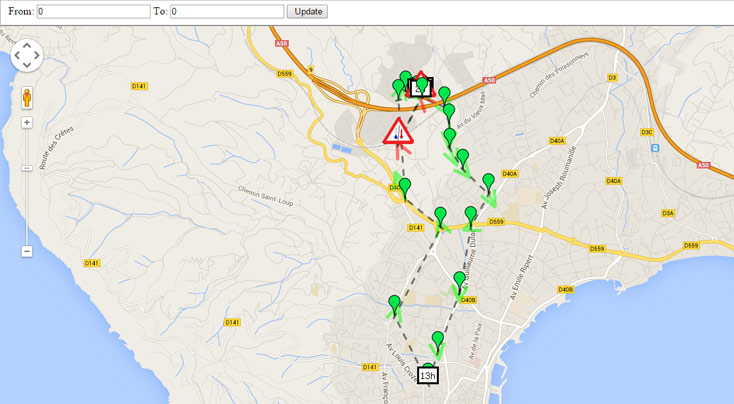 Display of data on a Map
Visualization of regular events of the parcel

Visualization of shocks, with time stamp and vehicle speed at impact

Visualization of points with temperature thresholds overlap

Indication when the vehicle is stopped for several hours
Installation and operation of the Newsteo Shock Data Logger
Technical specifications of the Newsteo Tracker TRP55
Shock data logger with localisation
-40° … 85°C
Accuracy: ± 0.3°C  [-30°C … 70°C] ± 1°C outside this slot
Resolution : 0.1°C
-16g … +16g
Accuracy : ± 0,5g
Resolution : 14 bits – 3.9 mg
Bandwidth : 1600 Hz
Positioning: resolution better than 5m, and up to 2m, depending on GPS signal quality
Ground speed: from 0 to 155 km/h, resolution of ± 5 km/h.
Can be set from one measure every minute, to one every 4 hours.
129 000 mesure blocks, one shock using 3-4 blocks (corresponding to 1 record campaign of 2 years, with one temperature measure every hours and 20000 shocks).
Acknowledgment process between the transmitter and the receiver to ensure that no data is lost during radio transmission
Back-up of the last 129.000 measurements in Logger memory even after transmission to the receiver
Supplied batteries: 3 x AA Alkaline batteries 
Other compatible battery: 3 x AA Lithium Thionyle  3.6V
Automatic power saving mode
If TRP55 remains stationary, the GPS acquisition frequency automatically decreases and then increases autonomy
Autonomy with Alkaline battery
Operating Temperature Range
Typical: 1.5 months
(up to 3 months if the GPS transmission quality is good)
Autonomy with lithium thionyl batteries
Operating Temperature Range
-40 °C … +60 °C
(up to 85°C peak but the enclosure can be damaged)
Typical: 3 months
(up to 6 months if the GPS transmission quality is good)
Weight (batteries included)
Plastic ASA (acrylonitrile styrene acrylate)
TRY IT
Find out more
This kit enables you to estimate the Newsteo Tracker TRP 55.
The kit is made of:
A Newsteo Tracker TRP55

A RF-to-USB Key medium-range (¼ wavelength antenna integrated)
A CD-ROM containing the installation of the RF Monitor Premium software with USB drivers, the application software of the Tracker which enables the restoration of the recorded measures, data localisation, and the documentation.
Price of the kit: 750 EUR excl. VAT, preparation and shipping costs in addition.
TRY IT