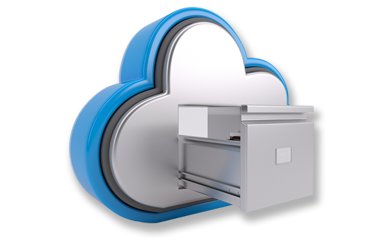 Data storage in the cloud
Data storage on the Cloud
The Newsteo offer of hosting measures in the Cloud allows immediate start up of the solution and also allows you to enjoy exclusive services, such as receiving a database backup each year.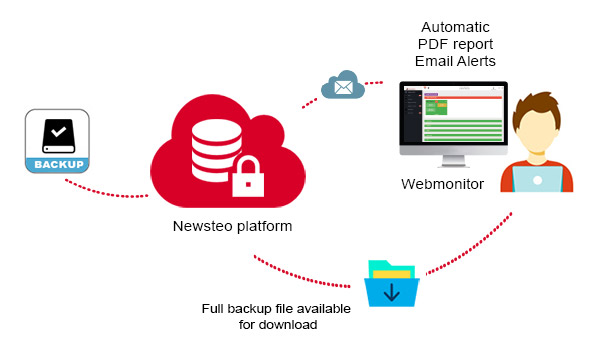 1. The Newsteo Gateway send the measurements on the Newsteo platform , where they are stored.

For the gateway, the equipment is delivered pre-configured, there is no database installation to perform
No network skill required
4GB Database
Several gatewaies may send their measurements to a single database. Therefore, only one subscription is necessary.

2. The user accesses when he wants to measurements:

Access to measurements can be performed using DB Monitor software provided by Newsteo or by using the web supervision application: Webmonitor, available on the internet.
Access 24 hours on 24, 7 days on 7 to the loggers measurements
Secured access, ID and password required

3. The platform can send alerts or reports:

Using Webmonitor:
Immediate email alerts when threshold is exceeded on a logger
Sending of a PDF report each week, including all measures and alerts detected by the logger
Using the DB Monitor software: immediate alerts by email when a threshold is exceeded in a logger

4. Management of the platform by Newsteo:

Database backups made by Newsteo
Each year, Newsteo provides a backup file, including all the measures of the year.
Newsteo also allows its customers to host by themselves their data on their server. However, the simplest solution that is also highly recommended by Newsteo is to give this task to Newsteo.
The display stations will access measurements stored on the server via DB Monitor visualization software (thick client).
Technical requirements:
The hosting of the database is a delicate operation. When using a Gateway, it also involves installing scripts provided by Newsteo on the server.
Requirements:
Database hosting:

Depending on the number of loggers that communicate with the database and their frequency, this graph is used to evaluate the size of the database. The evaluation is given for use for a year. After one year, it is possible either to save and delete measurements, or to continue using the same base which size will continue to grow in the same proportions.

> See the evaluation of the needed space
Being the server administrator to complete the installation

Check that the Windows firewall does not block the HTTP port (80 by default but can be changed) and the SQL port 3306 by default

WINDOWS™ SERVER 2008 (highly recommended), but the service can run on WINDOWS™ 7 PRO. No other Windows™ OS is supported so far. Linux is not yet supported.

Dual Core CPU with 6 GB of RAM and 1 GB hard drive for WebMonitor software (excluding data space from the database itself).