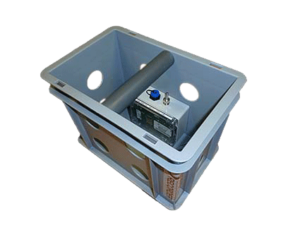 The temperature in real time during transport
Real-time transmission and location
Newsteo COS91, temperature recorder, GSM transmission (cellular network) and location
The temperature box is a robust and autonomous temperature recorder that ensures the traceability of the cold chain during the transport of sensitive goods. It is particularly suitable for tracking in leased vehicles, not equipped with a permanent system.
The information is transmitted in real time by GSM – GPRS (cellular network) and displayed in the Webmonitor web application.
How does it work?

The Temperature Box is placed with the goods in the transport truck. Every 10 minutes, it measures the temperature and every hour, it transmits to the Newsteo server, by GSM, the temperatures measured and its current location.
You can easily view this data by logging into the Newsteo Webmonitor web application. In real time, locate your goods and receive personalized alerts based on the temperature thresholds of your choice.
Technical specifications of the COS91 Temperature Recorder with GSM
Temperature recorder with GSM transmission and location
-40° … 85°C
Accuracy: ± 0.3°C [-30°C … 70°C], ± 1°C outside this range
Resolution : 0.1°C
Done by software, based on information about cell towers that the GSM module can detect.
Effective inside trucks and buildings
Displayed through Google Maps.
Temperature : 10 minutes
Location: 1 hour
Rechargeable battery
Supplied with its charger
GPRS Transmission Frequency