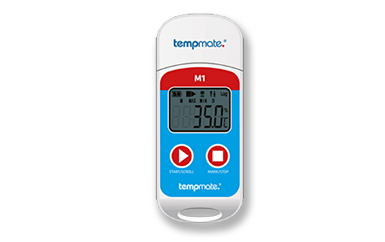 Multi – use pdf USB datalogger
Cold chain temperature monitoring
Reusable USB temperature recorder
The TempMate M1 USB temperature recorder is a multi-use recorder, easy to use and ideal for the supervision of the cold chain. It comes in addition TempMate S1, single-use temperature recorder. This is the perfect recorder for storage temperature monitoring (warehouse, cooler, refrigerator) or controlled temperature transport.
Possibility to perform multiple recording campaigns with the same recorder

Free software for individual datalogger configuration
Who uses the USB temperature recorder?
Logistics services: it is an easy to use solution

Quality services: it is a reliable tool, calibrated, with good accuracy

Purchase departments: this solution at very low cost allows to quickly deploy a traceability solution for the cold chain.
What do you find in the PDF report ?
Date of start and stop, average, min and max for the duration of recording, a curve representing all temperature measurements and the listing of measurements
View Tempmate measurements in Webmonitor
You can also download the PDF reports generated by the TempMate M1 into your web application Webmonitor. All temperature measurements of your fleet of recorders are then archived and available as graphic in your secure Internet interface. Wherever you are, you can check your tracking temperature system.
> Learn more about Webmonitor
Technical specifications of the Tempmate M1
Multi-use USB temperature recorder
By customer programmable / up to 12 months
Adjustable up to 5 alarm limits
Automatic generation of PDF report without additional software
CR2032 / replaceable by customer
79mm x 33mm x 14mm (L x W x D)
Includes individual validation certificate