The Newsteo radio transmission protocol on 868 MHz
The Newsteo solution is optimized for en easy integration and efficient operation.
The transmission operates on free ISM Band (868 MHz in Europe). The ISM bands (industrial, scientific, and medical) are frequencies which can be used freely (free of charge and without authorization) for industrial, scientist and medical applications. The unlicensed ISM bands below 1GHz are widely used for various consumer and industrial applications where long range, system cost, and long battery life concerns are critical. Applications in these market segments are diverse and can include home automation, security, industrial control, remote sensing, automatic meter reading, toys, weather stations, among many other consumer applications.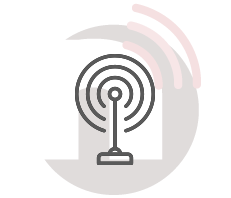 The advantages of the 868 MHz radio transmission
The ISM band frequencies enable to have a compact radio bridge with a high range:
In free space and with a ¼ wavelength antenna (i.e. only 8,6cm), the range is up to 800 m
Radiofrequencies can go through out concrete walls
The transmission is not disturbed by obstacles such as human bodies (this is the case for Wifi and Bluetooth technologies at 2,4 GHz)
Interferences are rare because this frequency is only used for industrial, scientist and medical applications.
Due to excellent propagation characteristics at sub-GHz frequencies, greatly extended ranges can be obtained at much lower current consumptions than from to the 2.4GHz band solutions. In addition, these sub-GHz bands are free from microwave, WiFi and Bluetooth interference making links substantially more robust than their 2.4GHz counterpart solutions.
The Newsteo communication protocol is:
Optimized to operate with a limited power in order to have a portable solutions powered by simple lithium batteries.
Tough enough to endure industrial conditions.
Newsteo communication protocol
The Newsteo connected snsors, or dataloggers, can be used in two modes depending on the customer's application.
Monitoring Mode: the measurements are sent in real-time to the radio receiver, for a real-time supervision.
Record Mode: measurements are stored in the memory of the logger. When the user gives the order by radio, the measurements are then downloaded on PC. This mode is used for measurement campaigns with consultation/treatment of data a-posteriori, without possibility of having real-time alerts.
Monitoring mode
It is designed for real time monitoring applications.
Application example: Supervision of temperature in a warehouse.
Operating principle:
The logger takes measures at the set period (i.e. 10 minutes) and sends it to the PC, with acknowledgment of receipt.
If the measurement is not received by the PC (key not connected, PC switched off, RF-Monitor not running, communication problem…), the logger records the measurement in its memory buffer (up to 32000 measures). Once communication is restored, the buffered measurements are automatically sent by the logger to the PC.
The RF Monitor software displays the measurement, stores it in the database, and gives alert if it is outside defined thresholds
Record mode
Il concerne des campagnes de mesures avec consultation/traitement de données a-posteriori, sans possibilité de remonter des alertes en temps réel.
It is designed for measurement campaigns with consultation / processing data a-posteriori, without the possibility of having alerts in real time.
Example of application: Supervision of temperature, humidity and shock during the transport of precious goods (museums – paintings, aviation, refrigerated foods …).
Operating principle:
The user starts the recording campaign by pressing the Record button
During this recording campaign, the logger takes a measurement according to the record period (i.e. 10 minutes) and saves it systematically in its memory.
At the end of the measurement campaign, the user stops the recording and download all the measurements on its PC
The measurements are then stored on the computer and can be viewed as a graph, a table … and exported to Excel
Measurements stored in the logger can be erased and the logger reused for a new campaign