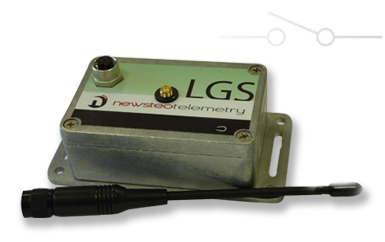 Wireless transmission for dry contact sensor
Industrial wireless sensor
Newsteo Logger LGS36, to turn every sensor into wireless switch-off sensor
The Newsteo Logger LGS36 allows you to connect any type of switch-off sensor (ON/OFF type). The Logger sends by radio to the supervision centre all the measures done by the sensor. The logger can also store the measures in its embedded memory.
LGS 36: wireless measurement data logger with switch-off sensor interface, 2 inputs

Connection cables: the client can connect the sensor of his choice.
Who uses the Newsteo datalogger for switch-off sensor ?
Switch sensor user: move from a wired connection to a wireless connection, safer, faster to install and less expensive
Installing recorders / Data Loggers
Technical specifications of the Newsteo Logger LGS36, Datalogger for switch sensor
Logger for switch-off sensor
Integrated temperature sensor on the electronic board
Can be set from one measure every second to one every 4 hours
Up to 32 768 measurements with date and time
Acknowledgment process between the transmitter and the receiver to ensure that no data is lost during radio transmission
Back-up of the last 32.000 measurements in Logger memory even after transmission to the receiver
AA Lithium Thionyle (3,6V) included, special design with plug to maintain the battery
Accessible and user replaceable battery
Optional: dual battery pack to double battery life
Up to 900 meters (with supplied antenna)
1/2 wave antenna (included)