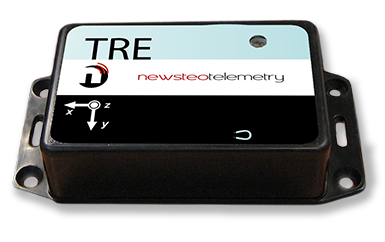 Shock ± 16G and temperature
Multi sensor shock recorder
Newsteo Tracker, shock recorder and data logger for transport conditions monitoring
The Newsteo Tracker is a shock recorder that can measure and record for 2 years the conditions of carriage of goods. It includes the recording of temperature, humidity, light and shocks (on 3 axis) as well as free fall height. It also indicates the duration of the shock and its energy. All actions are time stamped so you know when an abnormal event has occurred.
Several references of the Newsteo Tracker are available:
TRE35 : shock up to 16g, temperature and free fall height

TRE37 : shock up to 16g, temperature, humidity and free fall height

TRE38 : shock up to 16g, temperature, humidity, light and free fall height
Functionning

Having configured and activated the Newsteo Tracker, just fix it in the container, truck, box… before it leaves. The Newsteo Tracker continuously measures various parameters and stores corresponding measures. Upon arrival, the measures are wirelessly downloaded on PC, through the package of the good.
Who uses the Newsteo shock recorder ?
Fragile freight carriers: inform your customers of the transport conditions of their merchandise

Owners of the goods: the Newsteo Tracker is a shock snitch which will inform you of the conditions of storage and transport of your goods
Installation and operation of the Newsteo s
Technical specifications of the Newsteo shock recorder
PFPN-TRE35-001
PFPN-TRE37-001
PFPN-TRE38-001
TRE35 :
-40° … 85°C
Accuracy : ± 0.3°C, from -30°C to 70°C
± 1°C outside this slot
Resolution : 0.1°C
TRE37 & TRE38 :
-40°C … +85°C
Accuracy : ±0.2°C from 0°C to 60°C
Resolution : 0.015°C
TRE35: no Humidity sensor
TRE37 & TRE38 :
0 to 100% rH
Accuracy @23°C : ± 1.8% [0…80% HR] Resolution : 0.03% rH
TRE35 & TRE37: no light sensor
TRE38: 0 … 220 Lux
± 30 Lux
-16g to +16g
Accuracy : +/- 0,5g
Resolution : 14 bits – 3.9 mg
Bandwidth : 1600 Hz
Can be set from one measure every minute, to one every 4 hours.
129 000 measurements blocks, one shock using 2 blocks (corresponding to 1 record campaign of 2 years, with one temperature measure every 15 minutes and 29000 shocks).
Acknowledgment process between the transmitter and the receiver to ensure that no data is lost during radio transmission
Back-up of the last 129.000 measurements in Logger memory even after transmission to the receiver
The TRE is delivered with 1 x Thionyl Lithium Battery, type A, with connector.
The TRE also includes a battery holder, in which a 1.5V alkaline battery type AA / LR6 can be put. The use of this battery will not reduce the product's performances, but only the autonomy (1 year then) and the operating temperature (-10°C to + 50°C).
2 years (with the supplied Thionyl Lithium, type A battery)
TRY IT
Find out more
This kit enables you to estimate the Newsteo Tracker TRE 35.

The kit is made of:
A Newsteo Tracker TRE35 16g
A RF-to-USB Key medium-range (¼ wavelength antenna integrated)
A CD-ROM containing the installation of the RF Monitor software with USB drivers, the application software of the Tracker which enables the restoration of the recorded measures, and the documentation.
Price of the kit: 530 EUR excl. VAT, preparation and shipping costs in addition.
TRY IT