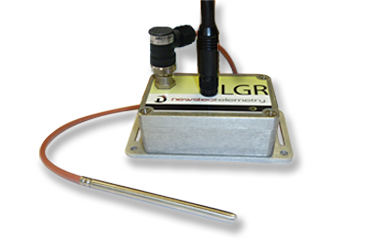 Take a remote temperature
Wireless data logger for PT1000
Newsteo Logger LGR33, wireless data logger for PT1000
The Newsteo temperature logger for PT1000 is a data logger that can remotely monitor the temperature of a environment. This recorder allows you to connect any type of PT1000 probe, thus covering wide temperature range from liquid nitrogen tanks to furnaces at very high temperature.
The Logger can transfer the data directly on a monitoring computer by radio frequencies or can store the data in its memory.
LGR33 : temperature data logger for PT1000
Who uses the LGR33, PT1000 temperature datalogger?
PT1000 users: move from a wired connection to a wireless connection, safer, faster to install and less expensive

Quality services in food industry: probes to put into food, compatible with temperature measurement during preparation

Extreme temperatures: liquid nitrogen, ovens …
Installing recorders / Data Loggers
Technical specifications of the Newsteo Logger LGR33 for PT1000
Newsteo Logger for PT1000
Depending on the PT1000 (max range : -250 to +850°C)
Compliant with 2 wire, 3 wire & 4 wire (recommended)
+/- 0.24°C (without probe)*
Internal temperature sensor
Temperature sensor inside the casing (in addition to the probe temperature sensor)
Can be set from one measure every second to one every 4 hours
Up to 32 256 measurements with date and time.
Acknowledgment process between the transmitter and the receiver to ensure that no data is lost during radio transmission
Back-up of the last 32.000 measurements in Logger memory even after transmission to the receiver
either via the already integrated in the probe connector (probes provided by Newsteo)
or via a connector or a cable to order to Newsteo (for client's probes)
COFRAC certification on order
* The probe inaccuracy has to be added to the Logger inaccuracy.
AA Lithium Thionyle (3,6V) included, special design with plug to maintain the battery
Accessible and user replaceable battery
Optional: dual battery pack to double battery life
Up to 900 meters (with supplied antenna)
1/2 wave antenna (included)
PT1000 probes for Newsteo Logger LGR33
PFPN-STE33-001
PT1000 4 wire, stainless steel 316L

Measurement range: -50 ° … 180 ° C

Operating range (cable and PT1000, without connector): -50 ° to 180 ° C

(for use in a liquid, at a temperature higher than 100°C, consult us).
Dimensions:
– Probe: length 100 mm, diameter: 6 mm
– Cable: Length: 2900 mm, diameter: 4.5 mm

Cable flexible silicone

Sealing:
– Probe : IP68 (within 1 meter of water)
– Cable : IP68 (within 1 meter of water)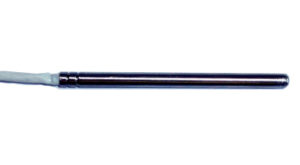 PFPN-STE33-002
PT1000 4 wire,  stainless steel – For liquid nitrogen

Measurement range : -196° … +150°C

Cable length : 3 meters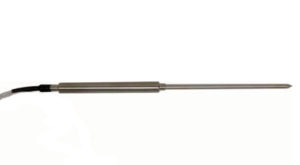 PFPN-STE33-003
PT1000 4 wire, probe for food

Measurement range : -50 … + 250 °C

Cable length : 3 meters
TRY IT
Evaluate the logger for PT1000
This kit enables you to estimate the Newsteo Logger PT1000
The kit is made of:
A Newsteo Logger LGR33
A PT1000 probe (STE33-001)
A RF-to-USB Key medium-range (¼ wavelength antenna integrated)

A CD-ROM containing the installation of the RF Monitor software with USB drivers, the application software of the Logger which enables the restoration of the recorded measures, and the documentation.
Price of the kit: 480 EUR excl. VAT, preparation and shipping costs in addition.
TRY IT