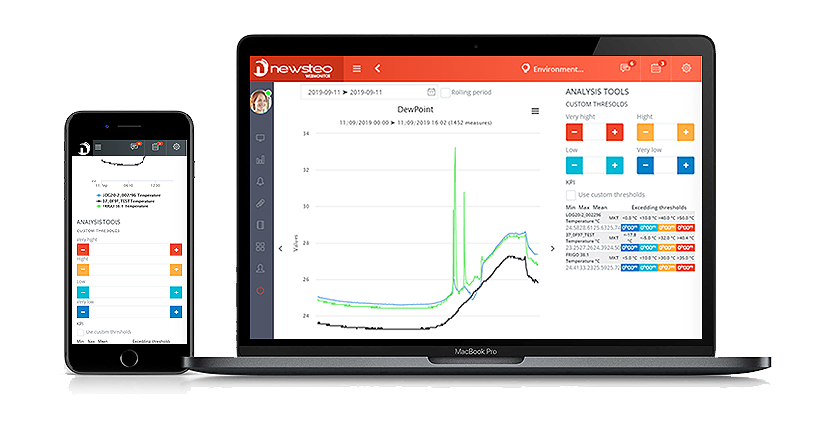 Web application to visualize all measurements
Newsteo Webmonitor: web application to monitor Newsteo wireless data loggers
Webmonitor application is available to users who have subscribed to a Newsteo hosting offer. It is a website that allows any user to identify and then to access to the measurements of its Newsteo wireless sensors.
Enter the access codes provided by Newsteo when subscribing to hosting offer

That is, measurements of that user's data loggers are displayed
Try it!
Connect to www.newsteo-webmonitor.com and access to a demo database by entering client / client / client within the three authentication fields.
Discover the operating principles of Newsteo Webmonitor and all the features of our software!
Connection identification: 

Access to the data is secure. Each user must identify himself.
Direct access to data loggers measurements:

Whether there are loggers for temperature, humidity, crack meters … measurements of the loggers which are installed are displayed in the same interface. From a glance, the user knows if loggers were in alert, if some still are.
Displaying as a curve:

Measurements of each logger can be displayed as a curve. You can add a comment by clic
Email  and SMS alerts: 

Real time alerts, sent by email.  Included in the Webmonitor offer: 15 free alert SMS per month.
Alert Log:

The measurements are grouped into an alert table. It is possible to comment and explain each alert.
PDF reports:

With a few clicks, set the automatic generation of PDF reports and receive them by mail every day, week or month.
You can also generate reports on the fly, with the time range you want.
CFR21 part 11 option : 

It allows to trace all actions done on the application and identify the author, in order to comply with CFR 21 part 11.
Data Loggers setting:

Data Loggers and Gatewaies can be configured remotely via the Webmonitor interface. It is not necessary to go on the installation anymore.
Server admistration

The administration is performed by Newsteo. Each year, Newsteo provides a backup file, including all the measures of the year.