Kit for characterization of climatic and thermostatic chambers (FD X 15-140)
Newsteo provides a kit for characterization and verification of your environmental temperature chambers. The kit complies to the FD X15-140 standard.
Characterization of a static chamber: climatic chamber, pharmacy refrigerator, refrigerated cabinet

Characterization of a vehicle: refrigerated utility vehicle, refrigerated truck …
Depending on the size of the chamber, a 9 points or 15 points verification may be proposed. This system allows you to characterize and qualify your enclosures such as climatic chambers, refrigerators, freezers. Note that the lab and pharmacy often recommends applying this qualification once a year (see recommendations of the National Order of Pharmacists in France). This kit for characterization can also be used for vehicles.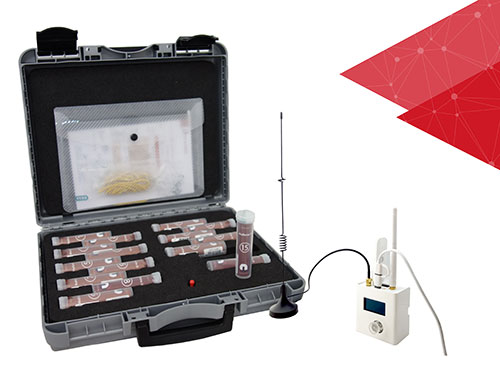 FD X15-140 characterization kit composition
9 wireless temperature probes to be placed in the enclosure (for a volume chamber less than or equal to 2 m3) or 15 wireless temperature probes for a volume chamber between 2 m3 and 20 m3. The temperature sensors have an accuracy level of ± 0.3° C and are temperature calibrated  in our COFRAC accredited laboratory.

Temperature sensors calibration certificates provided. These certifications are renewed once a year.

1 Newsteo CUB22 Gateway, with its power supply.

The Installation and User Guides.
The characterization can be done in a few hours!
How does it work?
Newsteo rents you the characterization kit for a week long. With the assistance of Newsteo technical service you install the system in the chamber to characterize. The data from the various temperature sensors are automatically transmitted via GPRS (mobile phone network) to Newsteo server.
Newsteo remotely edits the characterization report. Once you return the rented equipment to Newsteo, your report will be sent to you and invoiced.
The report is sent to you by email and by mail.