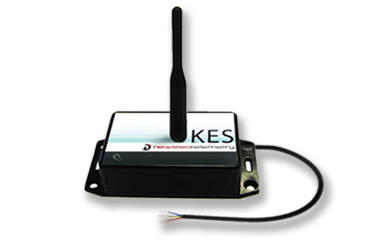 Communicates with NEWSTEO products in modbus
RF to ModBus key: radio receiver for PLC
A Newsteo sensor network can communicate with a RF-TO-MODBUS receiver wired to a programmable logic controller (PLC). This RF-TO-MODBUS Key gathers measurements from wireless loggers. Wireless loggers keep their standard functioning (periodically wake up and send measurements, alerts if sensor output values are beyond thresholds, and status information). These pieces of information are held in the RF-TO-MODBUS internal registers and can be queried at any time by the PLC. It is not necessary to bring the Newsteo radio protocol but only to integrate exchange tables.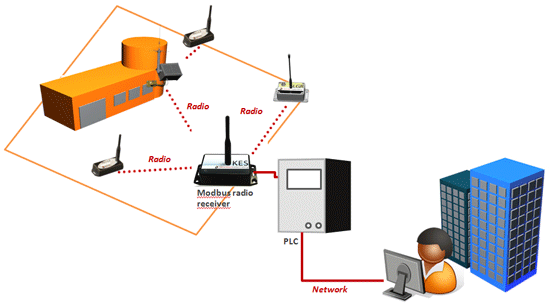 Settings of loggers (measurement frequency, alert thresholds …) and RF-to-MODBUS key are done by radio, during the installation (using a PC, RF Monitor software and RF-to-USB Key). Once that phase is complete, the

Modbus

[/fusion_text] protocol between PLC and Modbus Key is sufficient for the operation of the facility.

Several references of the Modbus key are available: RS232 or RS485
Compliant Newsteo references:
LGR36 :

Logger with digital external temperature probe

LGR46:

Logger with dual external digital temperature sensor:
For use with another reference, please contact Newsteo.
Building Management System : integration of RF-to-MODBUS key to operate a Newsteo network of sensors (temperature, dry contact …)

Structure monitoring: measurements operated by Newsteo wireless dataloggers (crack meters, temperature sensors …) communicating with a central controller

Transport monitoring: the receiver is integrated with a geolocation unit, a on-board computer (with or without GPRS return channel for real-time alerts) and transmits the measurements of a datalogger
Technical specifications of the Newsteo PLC receiver
PFPN-KES63-001: PLC radio receiver, RS232
PFPN-KES65-001: PLC radio receiver, RS485
Communication protocol radio receiver – PLC
KES63 : RS232
KES65 : RS485 (two-wire)
KES63: 235 kBps
KES65: 250 kBps
Through a hole screw terminal on the receiver
Width : 110 mm
Depth : 56 mm
Height : 26 mm
Antenna not supplied.
The receiver includes a SMA connector, allowing to screw any antenna in the Newsteo antenna range, depending on the whished radio range.
Radio signal range
(between Newsteo Logger and receiver)
Up to 1 kilometer in free land
TRY IT
Find out more
Newsteo allows you to evaluate the finished product, ready for use.

The kit consists of:
A RF-to-Modbus key (radio receiver) for PLC, RS232 or RS485 depending on your needs
Documentation for key integration, according to the Modbus protocol
A bridge USB to RS232 or RS485 to plug the KES and facilitate the integration step
Newsteo support for the integration
A RF-to-USB Key medium range (¼ wave antenna integrated)
A CD-ROM containing the RF Monitor software installation with the USB drivers for PC
The RF-to-USB key and RF Monitor software can communicate via a PC with the Modbus receiver to set it.
Price of the kit: 1 500 EUR excl. VAT, preparation and shipping costs in addition.
TRY IT