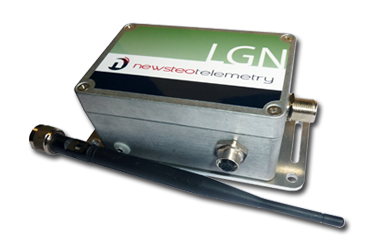 Wireless transmission for -5 to +5 volt sensor
Industrial wireless data logger
Wireless logger -5 Volt … +5 Volt sensors, 5 inputs
The wireless Newsteo logger converts any -5 … +5 Volt sensor into wireless sensor. This multi-sensor recorder allows to connect 5 sensors and power them.
LGN45: wireless transmission and measurement system, 5 inputs, -5 V to +5 V interface
Who uses the Newsteo datalogger with -5 V…+5 V voltage level interface?
Sensor users: move from a wired connection to a wireless connection, safer, faster to install and less expensive
Installing recorders / Data Loggers
Technical specifications of the Newsteo logger LGN45, for -5 V … +5 V sensors
Logger with interface for -5 V…+5 V sensor
13.6 V
Maximum consumption : 20mA (per sensor) meaning 100mA max on the line
Accuracy (without sensor)
24 bits over the entire range, or 0.6 µV
Integrated temperature sensor on the electronic board
Can be set from one measure every second to one every 4 hours
16000 sets of measurements (a measurement set includes the measurement of each 5 channels + Temperature + Timestamp)
Acknowledgment process between the transmitter and the receiver to ensure that no data is lost during radio transmission
Back-up of the last 32.000 measurements in Logger memory even after transmission to the receiver
1 C-size spiral cell 3.6 V 5.8Ah
Accessible and user replaceable battery
8 months in the following conditions of use:
– Frequency of acquisition of 15 minutes
– 5 channels activated with a consumption of 20 mA per channel
Up to 3 years using two C-size bobbin-type batteries 3.6 V.
Width: 125.4 mm + Type N female connector
Depth: 80.4 mm + Type M12 female connector
Height: 58.80 mm
Aluminium casing (4 mm)
Fixation support provided screwed in the casing for screwing in 4 points or strapping through 2 holes
White thermoformed case for solar and thermal protection
Up to 900 meters (with supplied antenna)
1/2 wave antenna (included)