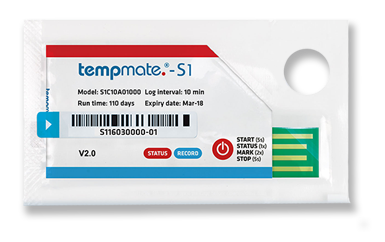 Single-use USB Temperature Data Logger
The Tempmate S1 USB temperature data logger is perfectly adapted to the cold chain applications in the food industry (storage and transport ), but also for monitoring for all types of goods: pharmaceuticals, blood, transportation of works of art, flowers, paper, …
Who uses the USB temperature data logger ?
Logistics services: it is an easy to use solution

Quality services: it is a reliable tool, calibrated, with good accuracy

Purchase departments: this solution at very low cost allows to quickly deploy a traceability solution for the cold chain.
What do you find in the PDF report ?
Date of start and stop, average, min and max for the duration of recording , a curve representing all temperature measurements and the listing of measurements

An optional Warning information according to alert thresholds personalization (only for volume orders – please contact us)
Technical specifications of the Tempmate S1
Single use USB temperature data logger
-30°C to 70°C (-22°F to 158°F)
-30°C to 70°C (-22°F to 158°F)
± 0.5°C from -20°C to +40 °C
± 1°C on the other range
Optional, up to 5 points (can be set with the software)
Automatic generation of PDF & CSV report without additional software
2 years storage , non replaceable battery
83 mm × 47 mm × 7 mm (L × W × H)
Individual calibration in factory
Calibration certificate supplied
TRY IT
Evaluate the Tempmate S1 temperature datalogger
This kit enables you to evaluate the Tempmate S1.
The kit is made of:
20 x USB temperature recorders, Tempmate S1

Calibration certificates and associated documentation.
Price of the kit: 360 EUR excl. VAT, preparation and shipping costs in addition.
TRY IT