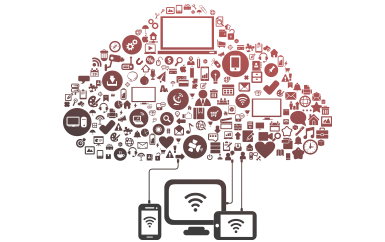 Connected sensors across multiple sites and remote supervision
Newsteo solutions make it possible to establish a wireless sensor network, across multiple sites with multiple connected sensors on each site. All measurements are then stored in a single database. It is then possible to check the measurements from anywhere through the web application Webmonitor.
The principle of operation is as follows: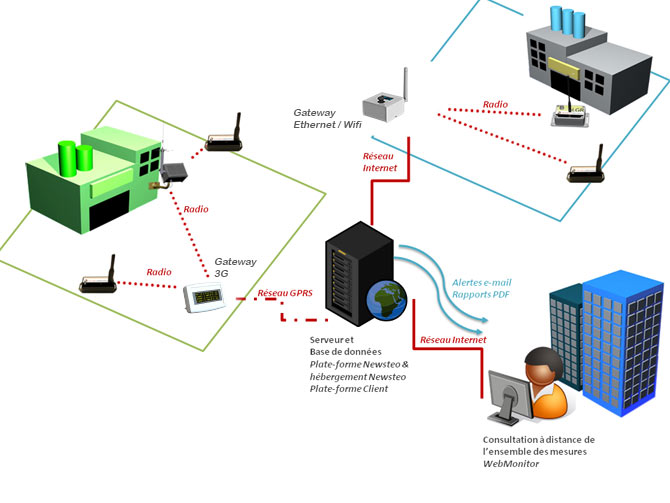 The wireless data logger (also called connected sensor, wireless sensor). It can measure temperature, humidity or other value. It is possible to use several ones, on different sites.

At the set the frequency, the transmitter recorder takes the measurement and transmits it to the radio receiver.

The radio receiver: this gateway will receive measurements and automatically transmit them to the storage platform (Newsteo server) in the Cloud. Transmission is done via Ethernet or GPRS.
The gateway communicates bi-directionally with the transmitters recorders park. It can change their settings, send an update of their software …

The storage platform: Newsteo server that stores all the measures.

The measurement displaying web application, Webmonitor. After authentication, the user connects to the measurement storage platform . The measurements are presented in graphical form. It is also possible to remotely change the settings of connected sensors.

Email alerts and PDF reports sending: the platform sends real-time email or SMS alerts in case of alarm on a logger (value out the threshold …). It is also possible to program the regular sending of PDF reports.
Pros and cons of multi-site architecture
Multiple sites networking

Real time sound alerts if a threshold is exceeded, automatic email sending and SMS alerts

PDF report sending

Ability to remotely view the measurements and to create accounts for each supervisor

CFR21 Option
Solution a little bit more cumbersome to deploy than a single-site solution