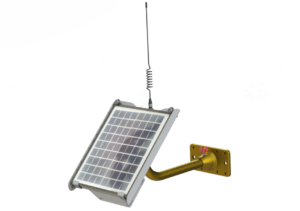 Increase the radio range of your system
Radio relay for NEWSTEO loggers
Newsteo Repeater, radio relay for newsteo wireless products
Communication between Newsteo radio products and reception center (PC with RF-to-USB key) can sometimes be perturbed by obstacle or too high distance. The Newsteo Repeater will be installed mid-way, acting as radio relay for all products out of radio reach.
Two references are available:
Inside building use: With a conventional AC power

Outside building use: solar powered. The product is self-sufficient, resistant to rain, UV and dust, and therefore perfect for outdoor uses.
Functionning
The installation is very simple: once the products installed and started, the radio communication is automatically configured without user intervention. The radio product, depending on its position, either directly communicate to the PC or through the Repeater.
PFPN-RPT20-001 : Radio relay powered on main power
PFPN-RPT30-001 : Waterproof Radio relay powered on main power
PFPN-RPS51-001 : Waterproof Radio relay powered through solar panel
RPT20 & RPT30 : Main current (220 Volts) with 5V adapter
RPS51: 1 individual solar panel, with a lead reloadable battery
RPT20 & RPT30 : Unlimited
RPS51 : 6 days without sun (a weak lumonisity is enough to reload the battery)
RPT20 & RPT30 : 0,5kg
RPS51 : 4,3kg
RPT20 : IP50
RPT30 : IP65
RPS51 : IP67
RPT20 & RPT30 : (PC – Repeater – logger)
Several hundred meters, can pass through several walls
RPS51 : From 1 to several kilomètres
A repeater can double, or even tenfold, the radio range of the loggers, but it causes higher consumption on the loggers used in monitoring (due to latency and transmission times with the receiver). In general and on average, it is recommended to divide by two the autonomy of the loggers (which go through the repeater to transmit). Consequently, when it is possible, it is always better to use a large antenna (full-wave grounded ideally), rather than a repeater in your applications.