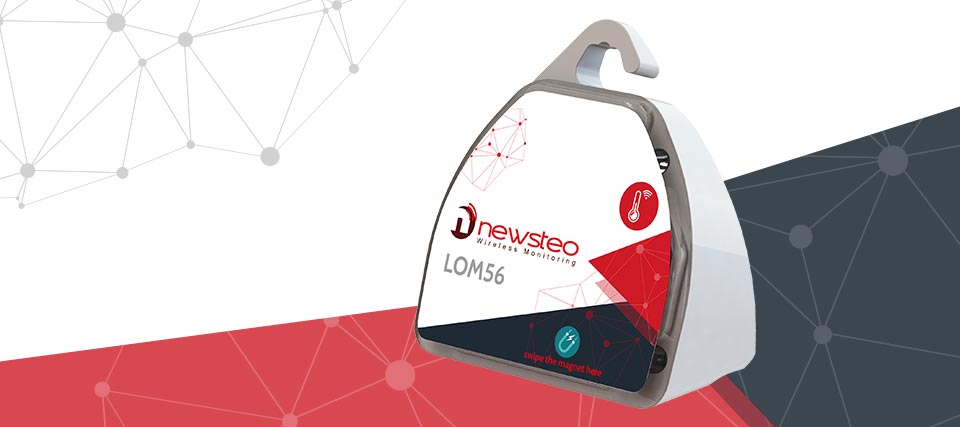 Newsteo announces the arrival of its latest wireless data logger
Newsteo, designer and manufacturer of connected sensors, a precursor to the Internet of Things, launches the LOM56, latest of its wireless temperature data loggers. This data logger, with its compact and robust design, complements the Newsteo temperature monitoring range dedicated to the protection of sensitive products.
The LOM56 is intended for environments in which temperature tracking plays a crucial role, particularly in the pharmaceutical and food industries. It is designed to monitor the temperature in the manufacturing, storage or transport areas. The LOM56 are located in the areas to be monitored (a simple refrigerator, a several thousand square meters warehouse, a refrigerated truck) and send the measurements by radio to an Ethernet, WIFI or 3G / 4G gateway. All gateways then transfer the data to the Newsteo Cloud.
Thanks to the system architecture, the user ensures:
the safeguard of its thermosensitive goods: an alert is immediately sent by mail or text message in case the threshold is exceeded (for example, in the pharmaceutical storage, 2 ° C / 8 ° C)
to be in compliance with the quality and standards in force thanks to the traceability of the cold chain. The automatic transfer of measurements allows no forgetting and all the data is accessible in the Newsteo Cloud.
a flexible and fast installation and maintenance thanks to an optimised radio range transmission of the measurements
Main technical characteristics:
Measuring range: -40 ° C to + 70 ° C

Accuracy: 0.3 ° C
Radio transmission: 868 MHz

Integrated hook for a quick fixing
«The adoption of Newsteo's solution, based on the LOM56 radio temperature loggers and the measurements accessible from anywhere in the Cloud, ensure a fast ROI. […] Our customers protect and sometimes save valuable goods thanks to the alerts they receive».