PRESENTATION
The Échaillon is an on-mountain restaurant, located directly on the slopes at the Serre Chevalier ski resort in the Hautes-Alpes, near the Écrins National Park. It's set in a pleasant chalet nestled at the edge of the woods, and offers both quality cooking and one of the best views of the valley.
The restaurant uses a cold room to preserve the foodstuffs in storage.
THE SENSOR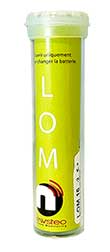 Temperature sensor
equipped with an internal probe
THE MISSION
The Échaillon contacted us so that they could track the temperature in this cold room.
The restaurant owner had the following concerns:
Being informed immediatelyin the event of a cold room operation problem. If the temperature varies, he receives an email or an SMS, no matter where he's located.
Compliance with HACCP(Hazard Analysis Critical Control Points) requiring permanent monitoring of the storage temperature of food served to customers, and ensuring that measurements are tracked.
Selecting temperature recorders that comply with the regulations in force, in other words, compliance with the EN12830 Standard (European standard on Temperature recorders for transport, storage and distribution of refrigerated, frozen, deep-frozen/quick-frozen foodstuffs and ice cream).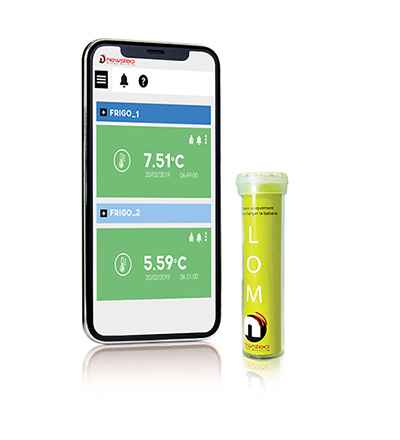 INSTALLATION
5 LOM16 and 1 LOG36 take measurements inside the cold room. Placed at different points of the room, they create a grid that covers the entire area.
All measurements are transmitted automatically to the Newsteo Cloud and can be viewed using the Webmonitor web application. In the event that thresholds set by the user are exceeded, an alert is sent automatically. In addition, a PDF report is sent weekly, containing the history of the week's temperatures.
The restaurant owner was able to install the data loggers on his own. Set-up is quite simple, and can be done very quickly. If needed, our customer service staff can guide you step by step. Video tutorials are also available.
THE SOFTWARE
Customisable Dashboard

View your fleet of devices and the last measurements taken

Display data and alerts in real-time

All your data, in one place

View your graphs, limits and statistics

PDF Reports  

Receive the PDF Reports directly in your inbox

Connect to your interface from wherever you are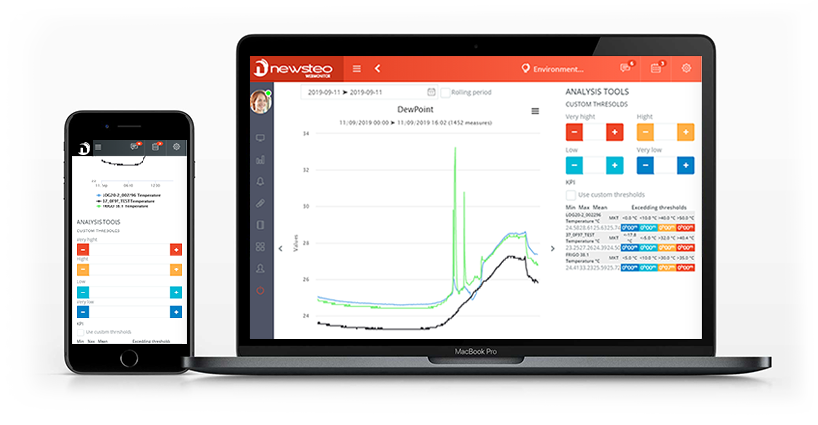 « Thanks to Newsteo's solution, I can guarantee my customers the same standard of quality as in any other town in France. At 2,000 m altitude, my customers benefit from quality meals in complete peace of mind »