The advantages of the newsteo radio protocol
Wireless data transmission by Newsteo
Since the beginning of Newsteo, reliability is at the heart of our business. We work with professionals who have very important constraints regarding the quality and integrity of the measures they carry out and we must constantly accompany them on this subject and be up to their requirements.
Some examples that speak:
Our customer "Star Service Healthcare" specialized in the transport of health products: blood, organs … These products are extremely sensitive to temperature and must be transported at a given temperature, which must be constantly controlled and traced.

We have deployed with them a solution for temperature traceability and alert, which covers their agencies and storage areas and their entire fleet of vehicles.

Another example: our customer Chopin Technologies equips grain silo sites with temperature probes. Temperature monitoring can detect fermentation risks that can damage the goods or even cause the explosion of the silo.
Through these 2 examples (of more than 1100 customers who use our solutions daily), you can understand why reliability is a major issue in our business. From a technical point of view, this materializes through 3 key elements of our technology:
An optimized radio protocol to ensure that all the taken measurements well received by the supervisory station (obviously we cannot imagine that a failure leads to a lack of supervision during X hours during the transportation of blood products).

battery autonomy of the products of several years, allowing to limit the maintenance to be carried out on the products.

a signal range optimized to facilitate radio transmissions even on large sites.
An optimized radio protocol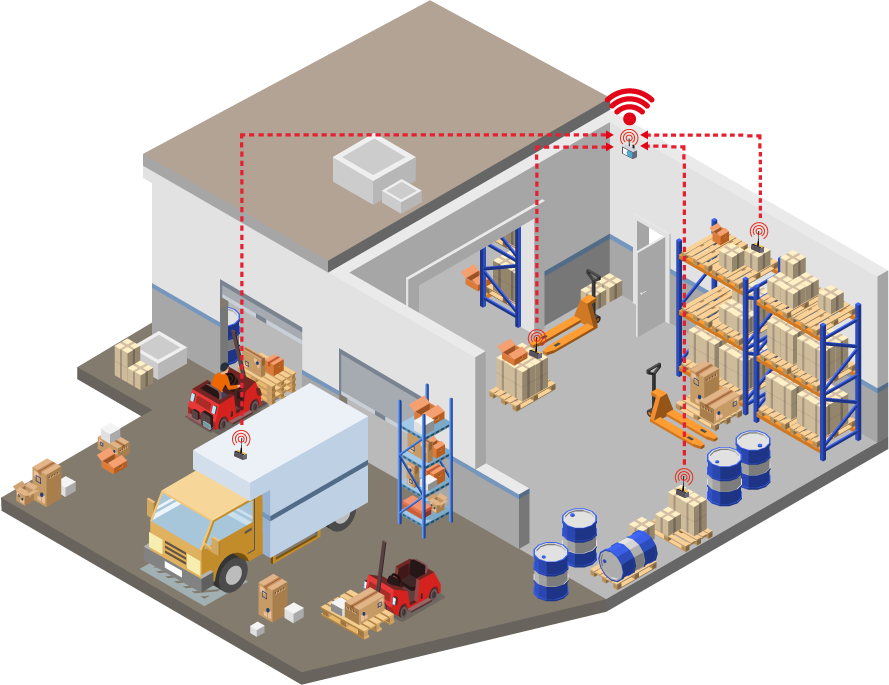 The Newsteo radio protocol is a proprietary protocol using the standard « ISM » radio bands. We had to develop our own protocol to meet the needs of our customers because no standard protocol of the market allowed high performance in radio range and extended autonomy.
The key elements that characterize it are:
An acknowledgment is requested for each exchange between the transmitter and the receiver. This ensures that each measurement has been received. Thus, the wireless recorder sends its time stamped measurement to the receiver. If it does not receive the acknowledgment of the receiver that it has received the data, it retries several times to transmit it. If it still does not receive the acknowledgment, it stores the measurement in its embedded memory (high-durability flash memory, even in case of power failure) and tries to transmit it again during the next radio exchange.
This transmission guarantee is essential wherever the measurements taken by the sensors are critical. But this is the case for all our customers, whether they work in the pharmaceutical, geotechnical or food sectors. It's important to keep it in mind in case of different market solutions benchmarking because this essential quality is often neglected.
Newsteo devices can store at least 32000 measurements in their on-board memory (ie, with one measurement every 10 minutes, approximately 220 days of measurements). Not only the device remains autonomous in case of break of the connection with the receiver but in addition it provides a local backup of the measurements, releasable manually in case of a hard blow.
Bidirectional transmission
Thanks to the bidirectionality of the transmission, the acknowledgment process is set up. It also allows the monitoring station to update the parameters of the wireless data logger and also to update the data logger software, all remotely.
No subscription, no entry cost
The use of the Newsteo protocol is free for life. For our Star Service Healthcare customer, we have, for example, equipped more than 400 vehicles, which have been communicating every 10 minutes for more than 3 years.
High autonomy of the products

Newsteo products work in an autonomous way for several years. This is an essential element and a very strong differentiator compared to other solutions on the market for our customers, which allows them to limit the maintenance requirements. For example, we have clients in the field of geotechnical engineering, who instrument works of art by installing different types of sensors: inclinometers, extensometers … These installations are considerable and require renting nacelles, mobilizing staff and sometimes bridges or roads useaccess. For these customers, it is mandatory to limit the maintenance frequency and (very expensive) physical interventions on site.
The battery life of Newsteo systems is not only evaluated in laboratory but validated by ourselves and by our customers in the field. The real problems of our customers are taken into account in the calculation of the theoretical autonomy of the systems, in particular the operating temperature, ranging from -40 ° C to + 85 ° C.
In addition Newsteo offers long-lasting battery packs, allowing you to switch to a total autonomy of more than 4 years.
Battery life sometimes comes with low radio range. Indeed, to optimize the autonomy, it is better not to use a too high emitting power to emit radio packets. At Newsteo, the maximum emitting power used is 10dBm, or 0.01 Watt. As our technical director, Franck Przysiek, likes to say "it is better to have a good ear than a big mouth that screams and gets tired".
Because Newsteo transmits on the 868 MHz radio frequency, long radio range can be ensured. This frequency is optimal for transmissions of few data, with large ranges.
it is better to have a good ear than a big mouth that screams and gets tired
It is possible to cross several concrete walls

The transmission is not disturbed by obstacles such as human or animal body (which is the case for Wifi or Bluetooth 2.4 GHz)

The risk of interference is very low because this frequency is reserved for industrial, scientific and medical (ISM) applications and the power of the devices operating on it is limited.
To summarize, the winning triptych of Newsteo is: no lost measurement, maximized battery autonomy and unmatched local radio range.