So now what? You have just received your first Newsteo IoT kit. Whether you have bought the kit for temperature and/or humidity measurement, and whether you need to install it inside a refrigerated enclosure or on a bridge, the procedure is the same.
To get off to a good start, here are the 3 essential points for a successful installation:
1. Position the antennas vertically
It can't be said often enough: the antennas of your wireless probes or recorders must be positioned vertically. If they are in the horizontal position, you will lose hundreds of meters of radio range.

We provide steel brackets to ensure perfect positioning of the antenna. Please contact us if you need some.
Other tips for perfecting the radio range:
Do not stick the antenna to a wall; always leave about ten centimetres between the wall and the antenna.

If the radio range coverage is not sufficient, you can switch to a larger antenna.

Remember to ensure that the connectors are properly screwed onto the antenna.
2. Radio channel change before starting operation
It is important to change the radio channel and add a security to your transmission. Newsteo has deployed more than 150,000 communicating devices. If all these devices communicate in a non-protected protocol, you will inevitably catch the data of your neighbour's sensors and your monitoring software will be polluted by them.
To avoid this problem, you just need:
to change the radio channel, so as not to communicate on the most used radio channel, which is channel 1 (channel on which the data loggers are set at production)

to choose a keyword for your network, and enter this keyword in each device (transmitters and receivers). Your network becomes watertight: you cannot see the data from another network and nobody sees yours.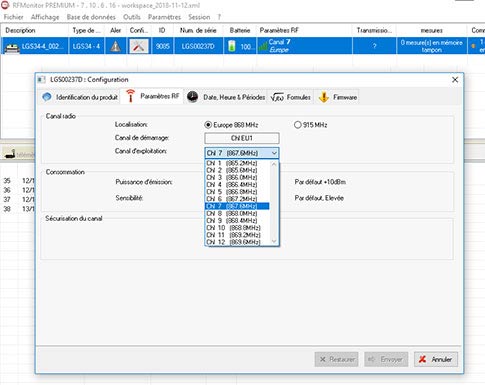 The procedure for doing these settings is detailed here:
3. Set up alerts sending
The RF Monitor software and/or the Webmonitor web application allow you to configure the sending of alerts by email. For your installation to be reliable on, it is very important to think about making this setting.
You can set alerts according to the measurements done by the sensors (too hot temperature…)

You can set alerts on the operation of the products. This setting is essential: you will receive an alert in case of low battery or in case of loss of communication with the communicating object.
If the battery alarm is triggered, change immediately the battery of your device. Lithium batteries have a fast end of life. To buy new batteries, please contact us. We provide high-capacity batteries, which achieve the autonomies we have specified.
– Setting up alerts : Watch the video Newsteo Webmonitor – Alert Management – See the procedure
We hope these tips have been helpful.
For any further information, do not hesitate to contact our support department via our dedicated website.